ALTERNATIVE HIGH STRENGTH HOISTING ROPES
Previous articles discussed the depth limitations of certain types of drill rigs because of the safe working load of the steel wire rope that is used in the hoisting process. The limitations can severely affect the application of these drills therefore ways to increase the depth capability need to be explored. These articles explore synthetic ropes and ultra-high strength steel wire ropes as viable alternatives to using a stronger hoist rope.
WIRELINE RETRIEVAL OPERATIONS
Part 1: Wireline retrieval
We hope that this series of articles will assist in improving your understanding of the hazards associated with wireline operations so that you and your team can better manage the associated risks.
Part 2: Innovations and Safety Devices
This article looks at a few innovations introduced to eliminate some of the hazards associated with inner-tube head assemblies and overshots.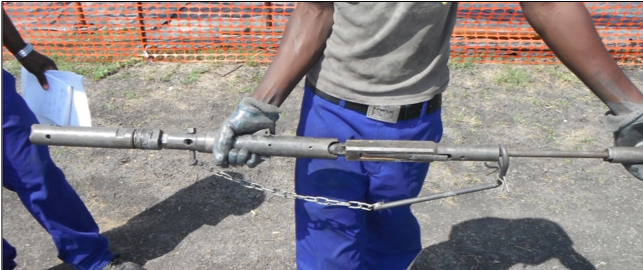 Despite the very clever innovations that have been introduced to reduce the risks associated with wireline retrieval, the industry still experiences accidents related to wireline operations.
This article provides some recommendations as a first step in reducing the risks associated with wireline retrieval operations.
THE USE AND ABUSE OF WRENCHES
This series was prompted by a fatality involving a pipe wrench. Several different types of wrench are used in drilling operations and all, when used correctly, will provide trouble and injury free service. It is only when wrenches are misused or abused that injury occurs. The aim of this series is to highlight some of the risks as well as the proper use of wrenches.
Have a look at this short reference sheet for the proper use of wrenches, from Rigid.
We were recently made aware of a fatality involving the use of a pipe wrench. Have a look at this article, which analyses the use of wrenches in drilling operations.
This article examines some of the ways that wrenches are frequently misused.
DRILL RIG CAPACITY SERIES
This series examines how drill rig specifications can be misleading. We identify the 'gaps' in these specifications that influence the legal implications of drill rig operation. The articles in the series take a deeper look at the depth capacity of hydraulic long stroke drills and top drive drills.
WIRE ROPE series
Part 1: WIRE ROPE CONSTRUCTION AND SELECTION
The first part of the Wire Rope Series focusses on how wire rope is constructed, its important properties and the aspects to consider when selecting wire rope. Part 1 includes a fascinating video on how wire rope is made and lastly discusses wire rope terminations and their impact on the safe working load of the wire rope.
Part 2: WIRE ROPE INSPECTION AND DISCARD STANDARDS
The second part of the Wire Rope Series focusses on the necessity of inspecting the wire rope on your sites as well as providing guidance on wire rope discard standards.
Diligent inspection of wire ropes is an essential part of a pre-start and daily inspection system.
Wire rope will develop defects during use through several different mechanisms each of which will affect the strength of the rope and therefore limit the working life of the rope.
It is not possible to look at a wire rope and determine its strength. We therefore need to have strict standards to determine when a wire rope should be discarded.